Are you curious about crypto tokens and how they could transform your financial future? Crypto tokens have gained traction in the past few years as individuals become more interested in investing in digital assets and new technologies. More than just a tool of speculation, these asset classes can provide an accessible route to innovative projects and potential profits.
But what is a crypto token? In this beginner's guide, we'll examine their operation, use cases, benefits, and some tips on acquiring them. So if you want to learn all the ins and outs of the fascinating world of cryptocurrency tokens and start your journey toward financial freedom – keep reading!
What Are Crypto Tokens?
Crypto tokens are digital asset that offers a unique advantage: they are built through an initial coin offering to raise funds. If you think of a blockchain as a digital ledger, then crypto tokens use that ledger to store transaction records and other types of programs, such as smart contracts.
It makes them a versatile asset because you can create complex applications on the blockchain while also taking advantage of the other features offered by the cryptocurrency they are built on. These tokens provide investors with numerous ways to benefit from crypto assets as they explore cryptocurrencies and create practical applications.
Difference Between Crpytotoken And Crypto Coin
If you've ever felt confused about the terms' crypto coin,' 'crypto token,' and 'cryptocurrency,' you're not alone. Although they all use distributed ledger technology, some notable differences exist between a coin and a token. In short, crypto coins are digital money designed to be used as a medium of exchange and to store value.
Crypto coins belong to their blockchain. On the other hand, crypto tokens are digital assets that require a pre-existing blockchain for operation – often through intelligent contracts. Tokens offer more flexibility regarding utility, from representing physical items to granting access to platform-specific features or services.
Some tokens that reside on blockchains are currency, security, reward, utility, and asset tokens. So next time you discuss cryptocurrencies, make sure you're referring to coins or tokens correctly!
How Do Crypto Tokens Work?
Crypto tokens are the virtual currency that powers the cryptocurrency network. They serve as the exchange unit for traders and financial institutions, which use them to carry out everyday transactions online.
To better understand how crypto tokens work, it's essential to comprehend encryption algorithms like elliptical curve encryption, public-private key pairs, hashing functions, and blockchain networks like Ethereum. It is because each pass on the blockchain is backed by an entry within this system and is secured by cryptographic techniques.
Through blockchain networks, these tokens become easier to transfer quickly and securely because their transactions are handled by smart contracts or decentralized applications that self-execute when triggered. Understanding these technical concepts will help you better understand how crypto tokens operate.
Characteristics of Crypto Tokens
Crypto tokens are digital assets with various uses -from DeFi to crypto services on special blockchains and gaming. These unique assets have common characteristics, too; they're associated with investments that can bring potential profits or losses, give access to certain blockchain-related products & services, and can be exchanged to gain benefit!
Programmable
Crypto tokens are a fascinating new type of asset that has the potential to revolutionize many industries. What makes them so innovative and groundbreaking is their programmability. Programmability implies that crypto tokens run on software protocols and smart contracts that dictate their intrinsic characteristics, functionalities, and blockchain laws or guidelines.
It allows unprecedented freedom in designing token parameters, enabling developers to create custom tokens with various responsibilities and utilities within various networks or ecosystems.
Additionally, programmable crypto tokens give the power back to investors by offering complete control over their assets, allowing them to make decisions about transacting or buying more tokens without relying on third parties. As a result, crypto tokens will continue to shape how we view value and ownership as technological advancement moves us closer to a digital economy.
Permissionless
Crypto tokens are one of the most exciting developments in modern technology, offering a revolutionary form of digital asset that anyone can access. One of their defining characteristics is that they are permissionless, meaning no individual or entity requires special authorization to access crypto tokens and their underlying blockchain networks.
Thanks to this trait, anyone in the world can make use of these powerful technologies and put them to work for themselves. It sets crypto tokens apart from other forms of digital currency, often characterized by exclusive and restricted access. By enabling open access, crypto tokens have opened up an exciting new world of possibilities for people around the globe!
Trustless
Crypto tokens are designed to be trustless, meaning they are not controlled or regulated by any centralized authority. Instead, they function on an algorithm written into the blockchain code they are built on.
This autonomous architecture allows users to take advantage of secure and transparent decentralized transactions without depending on a third-party provider or middleman, granting them more control over their digital assets.
Furthermore, it allows people worldwide access to the same financial services regardless of location, helping to promote financial inclusion for individuals sometimes geographically excluded from participating in global economies.
Transparent
Crypto tokens are becoming increasingly popular due to their unique and innovative characteristics. For example, they boast an impressive level of transparency. Being based on decentralized blockchains allows all crypto token transactions and exchanges to be recorded publicly, which can then be observed by anyone with internet access.
Further, all transactions and exchanges are verified by the global computer network protecting them from malicious tampering or hacking of funds. This secure yet open system is what makes cryptocurrency tokens so attractive to users around the world.
Types of Crypto Tokens
There are three distinct types of crypto tokens on the market. Value tokens are digital assets, like an NFT, that hold value and can be used to purchase goods or services. Utility tokens allow users to perform actions on blockchain networks or decentralized applications.
Security tokens, which are regulated by the SEC, represent an asset's ownership, such as a company's stock. They differ from other token types by being fungible and representative of rights. Whatever kind of token you're looking for, there's sure to be something that fits your needs!
Popular Crypto Tokens
Axie Infinity
Axie Infinity is one of the market's most popular play-to-earn (P2E) games. It offers a unique utility token called 'Smooth Love Potions' (SLP). The tokens can be gathered more than just from buying them: players can access complete tasks only available if they earn SLP.
So why not try out Axie Infinity? You may well find yourself getting your hands on those love potions! A bonus is that it's fun, challenging, and rewarding at the same time – what more could you want?
Cronos
Cronos (CRO) is the utility token for the Crypto.com ecosystem and provides many great benefits for platform users. For example, holding CRO tokens gives an individual access to preferential rates on over 50 different cryptocurrencies across 250 trading pairs, with reduced fees when exchanging crypto for fiat.
Staking also allows holders to secure various rewards, making it a great investment opportunity and a way to gain added value from using their crypto. On top of all that, CRO can also be used to pay transaction fees within the Crypto.com platform by applying a generous discount – making it one of the most valuable tokens available today!
Uniswap
Uniswap is revolutionizing the crypto industry by introducing its decentralized crypto exchange. This innovation allows token holders to trade tokens, cryptocurrency, and other crypto assets without any third party or central governing authority. As a result, users feel more confident knowing that complex technicalities are being taken care of and market movements remain challenging to manipulate.
Led by Ethereum technology, Uniswap is helping to create an alternative way of trading cryptocurrency that gives power back to the people and encourages easy access and fair pricing. With new trends arising in the crypto scene, Uniswap looks set to become the go-to platform for digital asset trading.
Conclusion
With all of this information, you should better understand crypto tokens and how they work. Having an understanding of them can help you decipher complex cryptocurrency-related topics and projects with ease. Additionally, you can make impressive profits by investing in the correct tokens.
Although care should still be taken when investing, having an idea of what's in the token market could be very useful. Crypto tokens are a huge part of the cryptocurrency world, and getting to grips with them will lead to more successful investments and decisions overall. So do your research before considering any investment opportunities, and always remember to stay informed about the latest developments.
There's always new information emerging that can dramatically affect the market. Follow us for more updates as we strive to help our readers create intelligent cryptocurrency investments that benefit their portfolios too!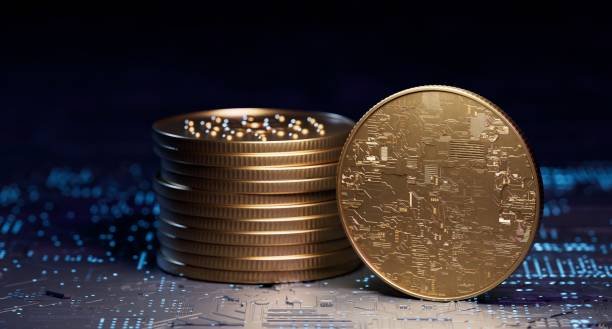 Frequently Asked Questions
Are crypto tokens worth anything?
Crypto tokens can be worth something if their demand surpasses their supply. For example, it becomes more valuable when a crypto token has utility or is used for various transactions within a large enough community, such as asset and token trading.
The community members want to refrain from parting with their tokens since they find value in using what they have. Therefore, the demand increases while the amount of tokens on offer remains the same, driving their overall worth.
Can tokens make money?
Cryptocurrencies and tokens aren't just used as digital money – they can also be a great way to earn passive income. Tokens can be bought and sold, just like stocks and bonds, allowing savvy investors to watch the market fluctuate and make a profit from their holdings.
On top of that, many tokens also come with extra benefits. For example, someone who holds tokens may receive discounts, bonus products, or additional services within the platform it was purchased on. With so much potential on offer, it's no wonder more people are turning to tokens to increase their wealth.